MICRORAYON2.0 and the Souvenir tower
Team project
2015

Moscow Architectural Institute
Yury Grigoryan studio

Is it possible to create natural urban environment artificially using the instruments of architecture?

How to provide extremely high density with excessive multifunctionality, but not to loose humanity?

Selection, combination theory.The idea of the MICRORAYON2.0 (Microdistrict) is a creation of a new urban module, which will be capable to become an alternative to the standard residential district of the Moscow periphery. This typology will solve the problems of intensive growth and sprawl of the city as well as necessity of high density.

Process.
The MICRORAYON2.0 has 16 authors.
Due to it creation of «the planned spontaneity» became possible as well as natural urban environment within one complex. Difficulties of process and interaction of large number of architects in one project led to idea of creation the regulations as a simple set of rules in a game.
This set of regulations allows each of authors to design the individual project, but obliges them to consider the general restrictions and to develop communication with «neighbors» for the integration his unit into the complex.

Regulations.
At the beginning of the project we took a simple form corresponding to a site shape (400m x 80m) and limited it by the height of 150m (according to the norms of usual residential districts). This height is the biggest bound, thus it is the way for provision the required density. The spot of the building is corrected taking into account all the norms of transport system.
Then the basic block was divided into 16 similar parts for 16 authors.

MICRARYON 2.0 project was not intended to become a single building, but, as a fragment of the city, rather a complex of autonomous but interrelated parts.
Team: A. Shlyahovaya, O. Tarasova, R. Nasriddinov, A. Plotkin, K. Egorushkina, A. Goga, A. Nyrov, S. Dudina, A. Lenz, I. Mihaylova, S. Kozin, E. Nuzhdina, V. Goncharov, V. Kapustin, A. Kozihin, A. Kalmykova

General axonometry



Plan and elevation of the complex. Drawing by S.Kozin and E.Nuzhdina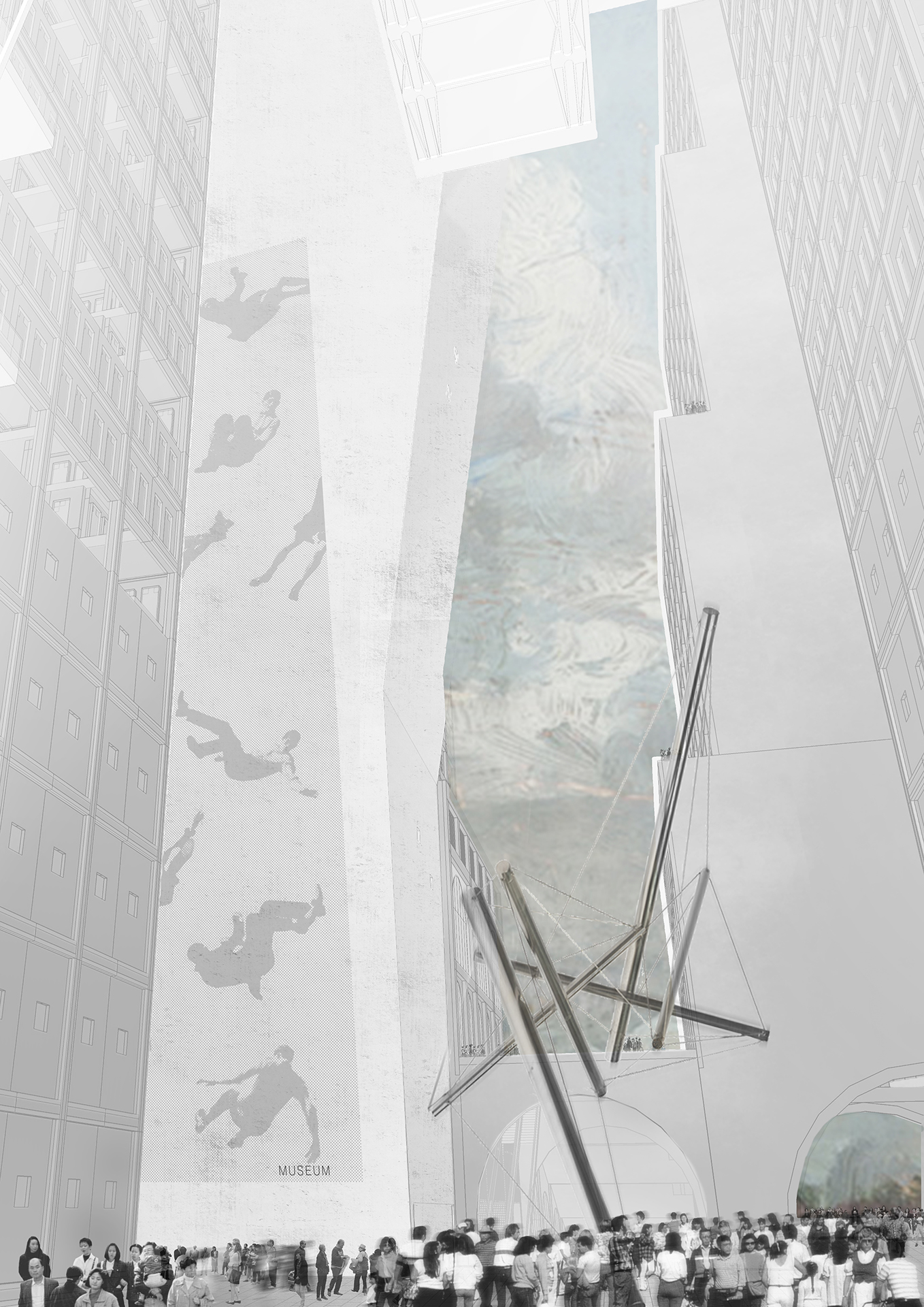 M



Museum board model